Frequently Asked Questions About Selling Jewelry And Diamonds In Austin
M.I. Trading is your premier Austin diamond buyer with over 10 years experience and we are here to answer all your questions!
Our trusted gemologists can answer any questions or concerns you may have about selling your fine jewelry, watches, and diamonds, so do not hesitate to consult us today.
How does it work?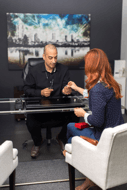 The process of selling your jewelry and diamonds in Austin is simple when you choose M.I. Trading!
No Papers? No Problem! If you have them, arrange your accompanying documentation. This can be an official appraisal, or record from a trusted source like the Gemological Institute of America, or American Gem Society.
Book a consultation with our gemologist at M.I. Trading. Our trusted employees will be able to assess the qualities of your diamonds, watches, and jewelry and get you the top price.
After all the factors are assessed an offer will be made.
You have the choice of accepting or rejecting the resale offer with no obligation. Your satisfaction is our #1 priority!
When will I receive payment for my diamond or jewelry?
First, Moran Tairy, our
local Austin gemologist
conducts a full evaluation of your diamond, watch, or any other piece of jewelry you wish to sell. You will also be updated on the
current market value
(what your piece would sell for retail as well as wholesale), followed by a cash offer. If you accept his offer you will
receive payment on the spot.
Many other buyers will convince customers to leave their diamonds on consignment. They may offer a slightly higher price for this option but you only receive your money when and if they sell your diamond. We at M.I. Trading do not subscribe to this procedure and believe in offering you the best price for the value of your diamonds and jewelry and paying you on the spot.
What do you buy?
We
buy diamonds
, of all shapes and sizes with certification and without. We are happy to consult with no obligation as well as answer any questions you may have about resale value. Look at our
4C's page
to find out more about the specific details that can affect diamond value.
In addition, we will buy your watches and jewelry, including Tiffany's Jewelry and other designer pieces. Many of our clients sell us their diamonds, watches, and fine jewelry after a divorce or from an estate sale.
Where can I find M.I. Trading's credentials?
If you look at the bottom of our pages you will see links to the
Better Business Bureau
where you can see a review of our company. As well our
testimonials page
that showcases the satisfied customers we have served over the years!
Is a diamond a good investment?
Diamond value fluctuates minimally (not as drastically as gold and oil). Few gemstones represent lasting beauty and love quite like a diamond! However if you intend to purchase a diamond as part of your retirement plan we advise against this as the market can fluctuate and decrease the resale value over time.
What is the difference between a certified and un-certified diamond?
There is no physical difference between a diamond that is certified and one that is not. A certified diamond provides you with tangible,
legal assurances
as to the nature and quality of the diamond you are purchasing.
A certified diamond comes with a diamond grading report guaranteed by an accredited gem lab. Most commonly, diamonds are certified by either the GIA or AGS. When you buy a certified diamond, you are getting a diamond with beauty and pedigree.
A non- certified diamond is not accompanied by a diamond grading report, and therefore its stated quality is based only on the word of the seller. At M.I. Trading we deal with both certified and non-certified diamonds, contact us for specific details regarding your piece.
What makes my diamond jewelry valuable?
The value of your diamond jewelry will fluctuate minimally over time despite changes in fashion. Investing in a quality stone from a trusted diamond buyer will add value to your jewelry and down the line, you can always have your diamond reset to suit the trends.
And, as expected, top brand names such as Tiffany's Jewelry will increase the value as well.
What diamond shape should I choose?
When choosing a diamond shape you should take into account the preferences and tastes of the wearer as well as trends.Your first priority is usually to choose a shape and preferences that match the
4C's guide.
Round diamonds offer the wearer maximum sparkle, whereas princess diamonds feature an angular, contemporary beauty that looks gorgeous in classic and geometric settings. Cushion diamonds are an ideal choice for vintage-inspired settings, and radiant diamonds serve as an alternative to princess and cushion diamonds for those preferring a rectangular shape.
M.I. Trading is happy to consult with you in regards to trends that have lasting resale value.
What are conflict diamonds?
Conflict diamonds are stones bought from countries where their production occurs under
duress to the worker
. These stones are also commonly known as
"blood diamonds
" as they are bought and sold to finance conflicts. Today there are
Today there are alternatives to purchasing conflict stones and if you are concerned about the lineage of your stone, an evaluation and certification for your diamond will answer any questions you may have regarding the nature of your diamond.
I was nervous about selling my diamond and getting a fair price but M.I. Trading made me feel safe and confident in my decision.
– Rachel Weinstein