Diamond and Jewelry Buyer For Rabbit Hollow Georgetown
We're Your Leading Rabbit Hollow Georgetown, TX Diamond and Jewelry Buyers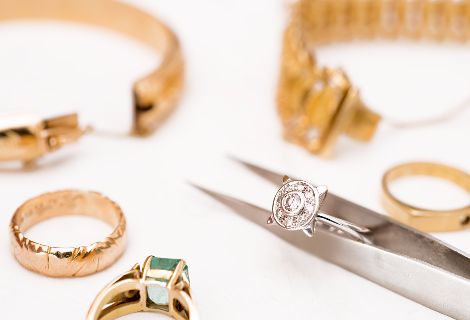 Look no further than the expert diamond buyers at M.I. Trading, if you're looking for a jewelry and diamond buyer in Rabbit Hollow Georgetown, TX. You will get cash offers in line with honest evaluations by field professionals. We're ranked number one in the Central Texas area and we will buy your diamonds and jewelry such as watches, Tiffany's jewelry, estate jewelry and much more.
What makes us stand out?
Although many online sales sites are available now, sellers do not invariably receive reasonable offers for fine jewelry sold online. Customers that purchase such pieces via online auction sites which are widely used frequently possess no previous jewelry-buying experience. Fine estate jewelry may very well be notably undervalued by these people. Moreover, sellers sometimes get offers and a winning bidder doesn't finalize the transaction.
Attempting to sell estate diamonds or other exquisite pieces of jewelry via the internet could prove difficult and unsatisfying. Instead, think about selling your jewelry with our trusted buyers! We buy whole estate collections and solitary items. We buy both certified and non-certified diamonds and will evaluate any jewelry you bring to us..
Your Premier Local Jewelry And Diamond Buyers In Rabbit Hollow Georgetown, TX
Headquartered in the community of Austin, Texas, we purchase fine jewelry and diamonds from customers in Rabbit Hollow Georgetown and surrounding areas. In case you have pondered how you can sell your diamond in the Central Texas area, we offer a superb option.
You'll value our commitment to our clients' privacy and our professionalism. Our team makes the process of selling your diamond stress-free and straightforward. Our jewelry and diamond purchasers in Rabbit Hollow Georgetown, TX make an effort to arrange great cash offers for the valuables.
Get Tips And Advice From Our Diamond And Jewelry Experts For Rabbit Hollow Georgetown
Moran Tairy, owner of M.I. Trading, possesses more than ten years of experience buying and selling fine jewelry and diamonds and possesses an intimate understanding of the precious stone market. You can expect to get an unbiased assessment of the estate jewelry and diamonds from Mr. Tairy. He enjoys discussing his knowledge with clients and has a firm devotion to transparency and discretion.
Enjoy Specialized, Fair and Respectful, Attention Whenever You Come To Us
Our customers take pleasure in carrying out business with our firm. We represent a no-pressure, specialized alternative for selling diamonds or fine jewelry in confidentiality in Rabbit Hollow Georgetown, TX.
We provide a number of fundamental perks to suit your needs. For example, without obligation to sell or cost, we'll assess your jewelry and diamonds and we will carry out your transaction in complete privacy. In addition, we provide a comfortable, pleasant atmosphere in order to complete your sale and you will enjoy punctual, respectful care. You can sell us your loose diamonds, diamond jewelry, watches, Tiffany's jewelry, and fine estate jewelry and more. Ultimately, we properly document all our transactions and present cash offers.
M.I. Trading's 6-Stage Jewelry And Diamond Purchasing Procedure
We've developed an easy process for making offers to buy pieces of jewelry and diamonds. We hold to these 6 stages:
Documentation: Prior to your appointment with our team, compile all the obtainable documentation associated with the diamonds and jewelry you would like to sell. We'll consider old appraisals and estimates as an example, from the GIA (Gemological Institute of America) or the American Gem Society (AGS). Please also note that documentation isn't a obligation.
Your Appointment: We will schedule to meet by appointment with you to carryout a comprehensive assessment of your diamonds or jewelry.
Explanation: We inspect every item of jewelry and/or diamond we purchase attentively. Mr. Tairy will give an all-inclusive education on every aspect of the evaluation to our customers. We discuss the features potential buyers seek out in quality diamonds like the 4C's of diamonds, together with the present precious stone markets.
The Offer: We'll deliver a cash offer, once we assess a diamond, watch or fine jewelry item. You will be able to examine this offer and accept it, or not and our team will in no way obligate or push you to sell.
The Deal: You'll receive cash immediately from us once you accept our bid.
The Receipt: Our staff will provide a receipt after the sale for every purchase transaction we carry out.
To begin the process of selling diamonds in Rabbit Hollow Georgetown, TX, just contact M.I. Trading to arrange a meeting anytime.