Jewelry And Diamond Buyer For Seguin, Texas
Turn To The Top Jewelry And Diamond Buyers In Seguin, TX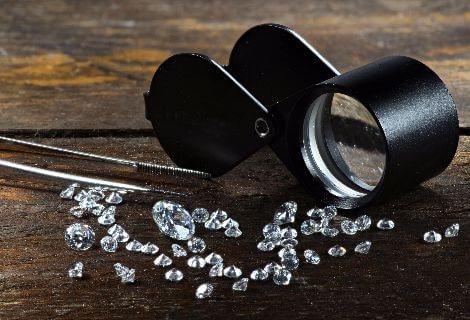 If you're looking for diamond and jewelry buyers in Seguin, Texas, look to M.I. Trading Diamond Buyers. You will receive cash offers based on trustworthy assessments by field experts. We are ranked #1 in the San Antonio area and we can buy your diamonds and jewelry including watches, Tiffany's jewelry, estate jewelry and much more.
What sets our company above the rest?
Sellers do not necessarily receive decent offers for pieces of jewelry sold through the web, despite the fact that one can find countless on-line sales venues today. Purchasers that purchase these pieces by way of online auction websites that are commonly used often possess no previous jewelry-purchasing expertise. They may significantly undervalue estate jewelry that is unique. Moreover, a seller might on occasion get offers and a winning bidder doesn't finish the deal.
Trying to sell estate diamonds or other exquisite items of jewelry via the internet could prove to be unfulfilling and difficult. On the other hand, think about selling your jewelry to M.I. Trading in the San Antonio area! We buy single items and entire estate collections. As an esteemed local diamond buyer, our company can buy both certified and non-certified diamonds.
Your Premier Local Jewelry And Diamond Buyers In Seguin, TX
Operating out of Austin, Texas, we purchase fine jewelry and diamonds from customers in Seguin, Texas and neighboring regions. If perhaps you've pondered where you should sell your diamond in the San Antonio region, we offer a superb choice.
You will value our credibility and our commitment to our clients' privacy. We make the diamond selling process direct and simple. Our diamond and jewelry purchasers for Seguin, Texas make an effort to supply great cash offers for your valuables.
M.I. Trading – The Scoop?
Our buying procedure will not entail any obligation or dedication; as soon as you receive our offer, you're able to decide to take it, or not. We won't push you to make a selection. Every jewelry and diamond purchase is documented by our staff. Also, you will get cash for your jewelry and diamond by selling to us.
If you seek out a buyer who will buy diamonds and jewelry, as well as fine watches and Tiffany's jewelry in bulk, you'll welcome the efficient buying processes we have designed. Our business has developed an excellent standing as a knowledgeable Seguin, TX diamond and jewelry buyer.
Receive Helpful Advice From Our Diamond And Jewelry Professionals In Seguin, TX
Moran Tairy, owner of M.I. Trading, possesses over 10 years of experience buying and selling fine jewelry and diamonds and possesses an intimate understanding of the diamond industry. You'll receive an impartial assessment of the estate jewelry or diamonds from Mr. Tairy. He enjoys discussing his knowledge with others and maintains a steady devotion to transparency and discretion.
Our Six-Stage Jewelry And Diamond Buying Procedure
We have created a simple process for making offers to purchase pieces of jewelry and diamonds. We conform to these 6 stages:
Documents: Prior to your appointment with us, collect all of the documentation that is accessible associated with the diamonds and jewelry you want to sell. We'll take into consideration former appraisals and/or estimates from the GIA (Gemological Institute of America) or the American Gem Society (AGS), as an example. Please also note that documentation isn't a requirement.
The Appointment: You will arrange an meeting with us to perform a comprehensive assessment of your diamonds or jewelry.
Education: We inspect every item of jewelry and/or diamond we purchase meticulously. We make an effort to provide a thorough education on every aspect of the evaluation to our customers. We explain the characteristics buyers search for in quality diamonds like the 4C's of diamonds, in addition to the present gemstone markets.
The Bid: After the fine jewelry, diamond or watch evaluation and explanation, we'll make a purchase offer. Feel free to consider this proposal and accept it, or not and we'll never push or obligate you to sell.
The Sale: You will receive cash without delay from us once you accept our offer to buy your diamonds or jewelry.
The Final Paperwork: We supply a receipt after the purchase for each and every purchase we carry out.
Enjoy Professional, Respectful and Fair, Attention When You Come To Us
Valued clients love engaging in business with our organization. We present a no-pressure, legitimate option for selling diamonds and/or fine jewelry privately in Seguin, Texas.
We offer numerous fundamental conveniences to suit your needs:
You can execute your trade in total privacy
Without obligation or cost, we will assess your diamonds and/or jewelry
Team members make sure to provide fast, respectful attention
You can sell us your fine estate jewelry, diamond jewelry, watches, Tiffany's jewelry, and loose diamonds and more
Expert and trustworthy evaluations of your items are given
We provide a relaxed, welcoming environment for you to complete your sale
We fully keep record of all our transactions and present cash offers
To begin the method of selling your jewelry and/or diamonds in Seguin, Texas, simply contact M.I. Trading Austin Diamond Buyers to schedule a meeting at your convenience.