Jewelry And Diamond Buyers In Teravista Round Rock, TX
Turn to M.I. Trading to sell your jewelry and diamonds and get the top cash offer!
We Are Your Leading Teravista Round Rock Diamond and Jewelry Buyers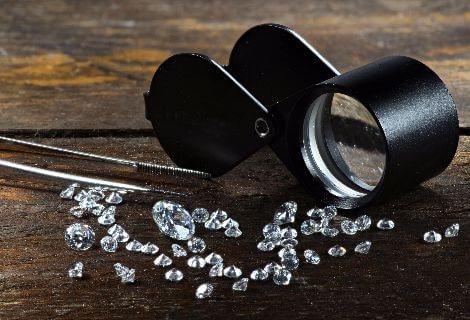 If you're looking for a diamond and jewelry buyer in Teravista Round Rock, TX, look to M.I. Trading. You can expect to receive cash offers founded on genuine evaluations by marketplace professionals. We are rated #1 in the Central Texas area and we'll purchase your diamonds and jewelry such as estate jewelry, Tiffany's jewelry, watches and much more.
What makes our company unique?
Although many on-line sales places can be found today, sellers don't necessarily receive reasonable offers for fine jewelry put up for sale online. Individuals that purchase these types of items through common auction sites frequently have no preceding jewelry-buying expertise. Estate jewelry that is fine is likely to be greatly underestimated by them. Additionally, sellers occasionally get offers and then a winning bidder neglects to execute the transaction.
Trying to sell estate diamonds or other exquisite pieces of jewelry on the web could prove to be unfulfilling and difficult. Instead, consider selling your jewelry with our trustworthy buyers in the Central Texas region! We buy entire estate collections and single items. As an esteemed neighborhood diamond buyer, our firm can buy both certified and non-certified diamonds.
Your Premier Local Area Jewelry And Diamond Buyers In Teravista Round Rock, TX
Headquartered in Austin, Texas, we purchase fine jewelry and diamonds from customers in Teravista Round Rock, TX and surrounding areas. If perhaps you have wondered where to sell your diamond in the Central Texas region, we offer an excellent solution.
You will appreciate our commitment to our clients' privacy and our precision. We make the diamond selling procedure clear-cut and effortless. Our diamond and jewelry buyers for Teravista Round Rock make an effort to offer top cash offers for the valuables.
Our 6-Stage Diamond And Jewelry Buying Process
Step 1: Document Overview
Prior to your appointment with us, compile all the available documentation associated with the diamonds and jewelry you want to sell. We'll look at former appraisals or assessments for instance, from the GIA (Gemological Institute of America) or the American Gem Society (AGS). Please also note that document overview is not a requirement.
Step 2: The Appointment
You will then schedule an appointment with our team to conduct a comprehensive assessment of your jewelry and/or diamonds.
Step 3: Explanation
We inspect every diamond or piece of jewelry we plan to purchase meticulously. Mr. Tairy will supply a comprehensive clarification to our clients on every facet of our analysis. We review the features purchasers look for in fine diamonds such as the diamond 4C's, together with the existing diamond market.
Step 4: The Bid
Following the diamond, watch or fine jewelry examination and explanation, we will deliver a purchase offer. Feel free to think about this proposal and agree to it, or not with no commitment or pushiness.
Step 5: The Deal
You'll receive cash instantly from us should you accept our bid to get your jewelry or diamonds.
Step 6: The Sales Receipt
We will supply a sales receipt at the time of the transaction for every purchase we carry out.
Experience Professional, Polite and Honest, Attention Whenever You Choose Us
Customers enjoy doing business with our company. We represent a no-pressure, legitimate option for selling diamonds and/or fine jewelry confidentially in Teravista Round Rock, TX.
We offer several fundamental advantages for you:
Every deal is carried out with full privacy
Without cost or obligation, we'll examine your jewelry or diamonds
We always provide fast, respectful consideration
You can sell us your fine estate jewelry, diamond jewelry, watches, Tiffany's jewelry, and loose diamonds and more
Trustworthy and qualified evaluations of your articles are always offered
We provide a relaxed, pleasant environment in order to complete your transaction
We make cash offers and we fully record all our purchases
Receive Guidance From Our Diamond And Jewelry Specialist Of Teravista Round Rock, TX
Moran Tairy, owner of M.I. Trading, has over 10 years experience buying and selling fine jewelry and diamonds and has an close familiarity with the precious stone market. You certainly will get an unbiased evaluation of the diamonds and/or estate jewelry from Mr. Tairy. He holds a strong devotion to transparency and discretion and enjoys sharing his knowledge about diamonds with clients.
M.I. Trading Diamond Buyers – The Scoop?
If you are searching for someone who buys jewelry and diamonds, as well as fine watches and Tiffany's jewelry in volume, you'll like the simplified buying processes we've developed. Our company has gained a fantastic reputation as a highly skilled Teravista Round Rock, TX diamond and jewelry buyer.
We make sure to document every jewelry and diamond purchase.
Furthermore, by selling your jewelry and diamond to our company, you'll receive actual cash. The buying procedure doesn't demand any duty or dedication; it is your choice to take the offer we present or not. We won't pressure you to make a decision.
To begin the method of selling diamonds or jewelry in Teravista Round Rock, TX, just contact M.I. Trading Austin Diamond Buyers to set up an appointment anytime.